Best DisplayPort & 1GB Memory Solution
MSI NX8800GT DisplayPort Series - innovative & vigorous
Обновлено:
Thu, 17 Jan 2008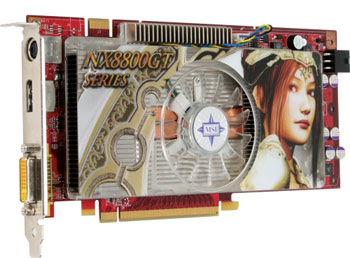 MSI, Taipei, Taiwan - MSI, a leading manufacturer of computer products, proudly unveils its latest MSI NX8800GT-PTD1GE Series graphics card, base on NVIDIA® GeForce® 8800GT Series GPU, DisplayPort output capable and increase onboard graphics memory to 1GB(1024MB). After increasing the size of high speed graphics memory, MSI NX8800GT-PTD1GE Series makes your High-definition gaming experience unparalleled smooth than ever.

Tech-leading DisplayPort interface natively built-in
MSI NX8800GT-PTD1GE Series has the next generation I/O interface - DisplayPort, which is dedicated for extra high resolution flat-panel displays and also has audio signal integrated in. In order to make the signal cable as less as possible, DisplayPort protocol further pull in the auxiliary channel which can let other peripherals such as USB HUB, webcam and touch screen device share the very same cable with video/audio signal. This design makes PC connectivity even more extended and convenient at the same time.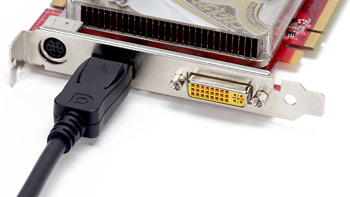 Unequalled playing experience in HD resolution gaming
Just because of plenty of memory space for GPU utilized as frame buffer, more texture resource can be read and written without extra latency. This makes PC gaming in extremely high-definition possible.

"You can expect that there will be more high resolution flat-panel, DisplayPort capable display devices hit the market in year 2008," said Vincent Lai, director of MSI's Global Marketing Group. "At that time, most graphics cards in the market will not bring the scene into full play at a reasonable frame rate. So, if you want a smart buy for HD gaming/movie playback and also with DisplayPort supported, MSI NX8800GT-PTD1GE Series is definitely your choice only."

MSI unique X-type Fan-pipe provides ZALMAN-beating level thermal efficiency
In order to give power users more privilege on over-clocking and advanced tweaking, MSI NX8800GT-PTD1GE Series loads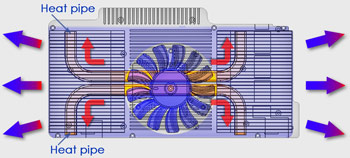 with MSI's 1-slot, dual-pipe high efficient thermal solution - X-type Fan-pipe. With this single slot fan which can lower the GPU temperature to 60℃.( as the ambiance temperature at 25℃, GPU fully loaded ) MSI X-type Fan-pipe is the most amazing thermal solution which cooling capability is very close to ZALMAN VF1000 Series, 2-slot Fan-pipe for MSI most high-end Zilent Series graphics card.