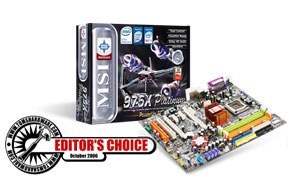 Micro-Star International, one of the world-renowned designers and manufacturers of high-quality motherboards, proudly unveiled its 975X Platinum PowerUp Edition before the year ends, supporting the new generation Intel® Core™ 2 processor and MSI's very own Dual Corecell Technology, this motherboard offers a powerhouse of advanced features for game enthusiasts who love overclocking their PCs in order to get as much power and performance as possible. At a recent technology exhibit in Japan , MSI 975X Platinum PowerUp Edition motherboard received the first ranking as the best motherboard with outstanding overclocking performance and also won the Editor's Choice Award from Tom's Hardware Guide for its superior price-performance Core 2 ready platform
Japan 's Leading Overclocking Contest
In order to let users completely experience the superior power performance behind the new generation processors, Intel Japan has launched its Core 2 Duo with a large-scale campaign in Akiba in September. During the event "Intel in Akiba", MSI demonstrated "Air Conditioner Cooling" computer system, successfully overclocking the Intel® Core™ 2 Extreme (original frequency: 2.93GHz) to 3.8GHz on-the-spot, together with MSI NX7900GTX-T2D512E graphics card which easily accomplish the Final Fantasy XI Official Benchmark 3 at a high score of 11076. It successfully booted the system at 4GHz as well, giving an impressive performance among its competitors. On the other hand, Intel Japan also come up with an interactive large-sized campaign "Benchmark Contest" inviting users all over the country to set up their own hardware with Core 2 processor that will reach the highest possible score of Final Fantasy XI Official Benchmark 3. So far, the system who got the first-ranked in the advanced class is the same one which is based on the MSI 975X Platinum PowerUp with a high-score of 13035.
Tom's Hardware Guide - Editor's Choice Award
Besides the high recommendation of PC users, the 975X Platinum PowerUp Edition has received the two thumbs up from Tom's Hardware Guide October Issue - Four 975X Motherboards for Core 2 Duo. The following is a quote from the original text:
"Obviously, MSI got a grip on its former issues. Due to its superior price/performance ratio, we recommend the 975X Platinum PowerUp Edition at this time." For most PC users who are on the look-out for the power of Intel® Core™ 2 processors to get high performance, the report has no doubt given users a very reliable reference.
Quad-Core Computing Ready
For the launching of the quad-core processor at the end of this year, MSI 975X Platinum PowerUp was considerably chosen to support the quad-core processors during the initial revised version. Since it is equipped with the necessary circuit and power design, this one is simply the "talk of the town". Several articles were posted in the hardware forum discussing the quad-core processors engineering sample to work with MSI 975X Platinum PowerUp Edition. For hardcore PC users who are into quad-core computing, the current MSI 975X Platinum PowerUp Edition provides the best support for quad-core processors and the complete expandable ability assurance for all Intel gamers.