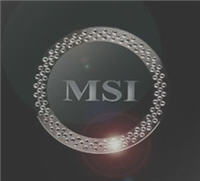 Crystal is a symbol of clarity and purity. According to the legends of the Roman Empire, crystals were discovered at the Alps Mountain . Initially, they thought that crystals were a form of ice, but researchers found out that crystals are natural stone with high transparency and clarity. Since then crystals became popular raw material because of their beauty and uniqueness. Crystals nowadays are mostly used for the jewelry and fashion industries, as chandelier parts, accessories, and as beads and ornaments for attire and jewelry by western leading brands. It does not only represent exquisite tastefulness but also identifies a user's unique personality.
A pioneer in technology, MSI has always been inspired to redefine luxury and technology. Combining MSI powerful technology and the exquisite Austrian crystal, MSI has launched it's very own "Crystal Collection" which represents the ultimate in beauty. When it comes to manufacturing a masterpiece, MSI understands that Austrian Crystals are unmatched in their quality, elegance and flawless craftsmanship.
The very first collection from the MSI Crystal M677 entailed the professional service of an experienced jewelry artisan to inlay 120 pieces of genuine Austrian crystal. Austrian crystals are known all over the world for their excellent high quality and prismatic intensity. MSI has done it again in creating the world's best combination ever- the perfect symbiosis of finest workmanship and high technology.
Creative Solutions in Fashion
MSI Crystal Collection is a fusion of Austrian beauty and Taiwanese innovation. It results in the creation of the Crystal Collection exterior in addition to the shiny black UV light solid paint as coating under the crystal ring. The UV coating does not contain any volatile substances such as benzene and others; it also prevents leakage of gaseous substances from the raw materials. With its lightweight & luxurious design and outstanding performance, the MSI Crystal Collection offers an exceptionally elegant exterior and high performance that will surely impress and capture the heart of any notebook users!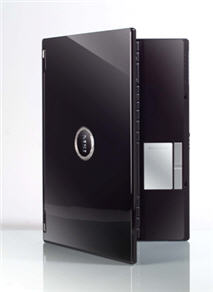 Delivering a truly high performance computing power, the MSI Crystal M677 uses the highest performance AMD TurionT 64 X2 processor, DDR II memory chips (expandable up to 2GB), and 5400 RPM high speed hard disk to minimize data storage and access time. Users will definitely feel the difference in the stability and speed of the hard disk when doing graphics processing, retrieving large-sized files or burning CD/DVD. Furthermore, the MSI Crystal is equipped with NVIDIA GeForceT Go 7600 that allows you to rip through today's most advanced and cutting-edge games and applications. With support for Microsoft R DirectX R 9.0, Shader Model 3.0 and High Dynamic-Range Lighting (HDR), you can experience real-time photo editing or true-to-life gaming environments on this very powerful notebook PC. Since all GeForceT Go 7 Series GPUs are designed to support the Microsoft R Windows R VistaT and Microsoft ' s next-generation Operating System (OS), rest-assured that you will be enjoying your notebook PC well in the future.
15.4" Super Glare Type wide screen display
The full brightness and precision mirror-finished material give you the most detailed of image, resulting in high saturation and high definition image quality as well as luxurious visual sensation. The 16:10 aspect ratio is also best for movie and picture playing, users can view several windows simultaneously saving them from frequently switching between windows or slides. Now users can easily create chart and diagram in Excel and paste them in PowerPoint, increasing their working performance tremendously.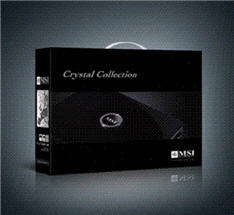 Create a High-Quality, All-Around, Wireless Living Space
A mobile computing platform must possess the ability to network wirelessly. The MSI Crystal M677 provides 802.11 b / g wireless networking standards. Whether you are at home, in the office, in a coffee shop, or even traveling abroad for business or pleasure, the Crystal M677 will get you on the Internet wirelessly anytime. In addition, you can create a high quality digital living space all around because MSI Crystal M677 also offers Bluetooth wireless transmission capability. Other mobile devices such as handset, PDA, earphones, and GPS can all now get connected with your computer wirelessly without the clutter of cables. While presenting a neater appearance, you can also enjoy a more carefree travel leaving all the cables at home.
Independent Num eric Keypad
Notebook computers frequently have to make design compromises so as to maintain a more compact size. One such example is the num eric keypad, which is available on desktop computer keyboards but missing from a notebook. Lately we are seeing more notebook computers with separate num eric keypad on 15.4" models. To cater to users who use accounting, financial, and banking applications, MSI Crystal M677 has an independent num eric keypad to the right of the keyboard. Using this keypad is intuitive and requires no extra learning process on the part of the user. The much smaller 15.4" screen Crystal M677 with its independent num eric keypad is a true rarity among all notebook computers.
High Resolution 1.3 Mega pixel Webcam
The 1.3 mega pixel webcam is merged seamlessly with a sleek streamline appearance through a mix of simplicity technology. With the built-in webcam, it conveniently removes the burden of carrying an additional device during your business trips and eliminated cable clutter as well.