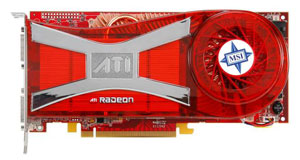 MSI, a world leader in the manufacturing of computer display cards, is introducing two new powerful display cards to the market, the X1950XTX and X1900XT, which respectively use ATI's top-of-the-line R580+ and R580 graphics processing chips, offering our users the most stunning 3D visual effects possible.
The all new X1950XTX high end display card has a core display processor speed of 650 MHz, and comes equipped with 48 Pixel Shaders, 8 Vertex Shaders, and 16 sets of texture processing units. In short, it is packed with some pretty explosive 3D graphics processing power. The new ATI R580+ raises the bar on memory controllability, and is coupled with GDDR4 display memory granularity, and a clocking rate of 1 GHz. It also comes with 512 MB of on-board memory, contributing to a performance enhancement of 30 to 40% over the earlier X1900XTX and providing even more high end support to graphics and video processing tasks. The ATI R580+ graphics processing chips are made with the 90 nano-scale manufacturing process, so heat generated by the chips are significantly reduced. Additionally, our cards have an cooper-made, low-noise cooling fan installed on top, resulting in ultra-quiet operation.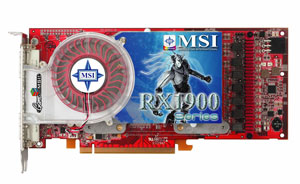 Positioned to target the mid- to high-end market, the X1900XT display card uses the ATI R580 graphics processing chip, with a clocking rate of 625 MHz. The on-board memory used for display is a spacious 256 MB with GDDR3 standard, which has a clocking rate of 725 MHz. This allows our users on a tighter budget to still experience some pretty powerful 3D visual effect made possible by this high-end display card.
Support for Shader Model 3.0.
Both of our all new X1950XTX and X1900XT support the Shader Model 3.0. standard, which allows these cards to greatly outperform their predecessors through the optimization of the display core itself and the game's software codes. Using our display cards, the game world has moved another step closer to reality.
ATI's Video Optimizing "Avivo" Technology
In terms of video display, the MSI X1950XTX and X1900XT both have ATI's video optimizing technology "Avivo" built in. Avivo is a feature that only MSI's new generation of AT RX1000 product line has. Through revolutionary enhancements made to the graphics processing chip architecture, the colors of our video become brighter and more realistic. During video play back, problems associated with video overlay or video appearing choppy can also be effectively eliminated. Features such as 10-bit image sampling and 16-bit dynamic ranging make the videos generated by the RX1000 series display cards appear that much more realistic.
The unprecedented video quality enhancement made possible by Avivo can be observed not only on computer screen, but on projected screen through a project or on a large sized digital display screen as well.
MSI's Exclusive Picture Quality Enhancing "Vivid" Technology

MSI's ATI-series display cards all come equipped with MSI's exclusive "Vivid" picture quality enhancing technology. Whether you are viewing photos, surfing the Internet, or playing games, we can help you adjust your screen to the optimum quality. (For information about products with older specifications, please visit our web site as www.msi.com.tw .)