Quad Core and CrossFire X Ready with K9A2 Platinum!
The best Performance Gaming Solution on AM2+
Обновлено:
Wed, 07 Nov 2007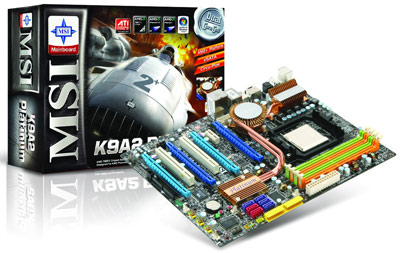 Have you ever heard about AM2+ Quad-Core CPU? Do you want the latest AM2+ ready motherboard to be able to install all AM2+ Quad-Core/Dual-Core high performance CPU as your gaming platform or home entertainment PC? Before the AM2+ CPU family has been launched, MSI has already come up with many products for gaming and heavy multi-tasking users. This latest upcoming product comes with exciting features such as AMD native Quad-Core solutions, and Generation 2 PCI-Express design. "K9A2 Platinum is the best Multi CrooFire and Quad Core solution on AMD platform", said Vincent Lai, the MSI worldwide marketing director.

Powerful and excellent features platform
MSI's latest K9A2 Platinum utilizes the latest AMD 790FX chipset, supporting the new generation Socket AM2+ with dual channel DDR2 800/1066. In addition to being the most future-proof platform currently available, the K9A2 Platinum is ready to fully support features such as the new Quad Core Phenom processors which comes with HyperTransport 3.0, a great improvement in the internal bandwidth, MSI unique technology Dual CoreCell™ with software control Dual CoreCenter, Quad VGA CrossFire, HD 7.1 channel Sound and new Circu-Pipe solution.

Quad Core and Quad CrossFire ready!
The Quad Core CPU support will bring more benefits to multimedia and multitasking by enhancing the performance and reducing the waiting time for any kind of applications. It provides extremely high definition audio/video stream editing and offers higher performance on 3D gaming and professional graphic rendering.

AMD will soon launch their triple card CrossFire soon in coming season, but now MSI design quad PCI-E VGA slot for more then this new technology, we are ready on Quad CrossFire with PCI-E Gen2 bandwidth once AMD is ready on multi VGA side. That will bring higher 3D gaming resolutions with more detail DX10 effects. What's more, it also enhances the 3D frame rate to a higher level for more smooth gaming experience.

Circu-Pipe and 5 phase PWM with high efficiency!
From MSI P35 Platinum and Diamond series, MSI has designed a special heat-pipe solution with circle shape and bigger sink surface called Circu-Pipe. The special design can enhance the heat dissipation performance and reduce the heat 20% faster than the others. MSI will keep that concept and will continue to improve the pipe performance all the time.

The 5 phase PWM design with high efficiency is now on K9A2 Platinum, up to 95% power transfer efficiency, support extreme overclock ability on Phenom Quad Core FX series CPU in the future.

Both Circu-Pipe and 5 phase PWM design are design for green motherboard concept to reduce heat faster and save more power consumption. Moreover, it can also save cost for long term use and save the planet earth from pollution and resource waste!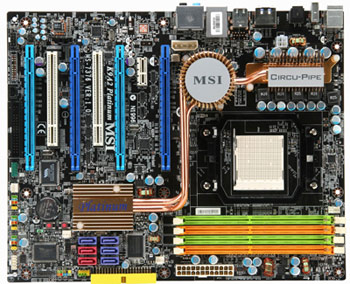 K9A2 Platinum spec.

• AMD 790FX chipset based
• Supports AMD Socket AM2+/AM2 Phenom, Athlon and Sempron processors
• 2 PCI-E x16 slots for full x16 speed CrossFire support
• 2 extra PCI-E x16 slot design for Quad VGA with x8 x8 x8 x8 speed
• 4 dual channel DIMMs DDRII 533/667/800/1066 up to 8GB
• 10/100/1000 LAN port
• 7.1 channel surround Audio
• Supports 6 SATAII, SATA 1~6 supports RAID 0/1/0+1,5
• Extra SATA hardware RAID with SAS ready port
• 2 PCI-E x16, 2PCI-E x8, 1 PCI-E x1, 2 PCI slots
• 10x USB 2.0, 2x IEEE1394
• Dual CoreCell technology with D.O.T. Express
• Copper Pipeline Heatsink design