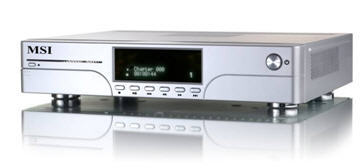 Taipei , Taiwan - MSI Media Live is the latest addition to MSI's Media Center PC family. You will enjoy a true digital life in the living room with Media Live.MSI will showcase its outstanding R&D competence in the Media Center PC field at the CES 2007 in Las Vegas, U.S.A. on January 8-15, 2007.
Video, Picture and Music, all Playback in One Amazing Device
Features all the necessary multimedia PC connectors for connecting a wide range of peripherals, including a card reader which allows users to transfer pictures, digital video, music* or any type of data in less time. It also comes with a CD/DVD drives for playing music, movies and games, as well as writing data and video to disc.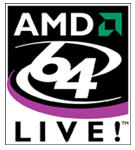 Digital Entertainment with AMD Live! ™
MSI Media Live is powered by AMD64 dual-core processors and designed to transform all things digital in your life. With AMD LIVE! ™ , you can enjoy your entire collection of movies, TV shows, music, pictures and other digital media files from virtually anywhere. And you can use all the digital electronic gear you already have - from set-top boxes and game consoles, to MP3 players and mobile phones - to access and share your collections.

AMD Cool'n'Quiet Technology
AMD's new generation PowerNow! technology, effectively reduce electricity comsumption of your PC. Besides, you can control fan speed and noise according to the system temperature and reduce heat output from your PC by the innovative solution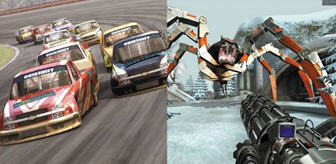 Superior Graphics Performance
The NVIDIA ® integrated graphics supports DirectX ® 9.0 which allows the MSI Media Live to work well without the need for add-on VGA card when playing 3D games.It also feature a revolutionary design that delivers best-in-class performance on today's hottest games and applications.Further, it also include NVIDIA® PureVideo™ to deliver crisp, vibrant video to the PC.
Supports HDMI

High Definition Multimedia Interface (HDMI) is the first and only digital interface to combine uncompressed high-definition video, multi-channel audio and intelligent format and command data in a single digital interface. HDMI delivers the best possible digital, high-definition video for a superior viewing experience.
Better Sound Effect
MSI Media Live makes watching DVD a real enjoyment with the 8 channel High Definition Audio. You can experience high-level sound effect in some DVD movies. Accompany it with an LCD monitor or Plasma TV; the visual experience would be close to being in a movie theater.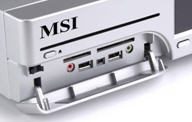 12-in-1 Card Reader

MSI Media Live features 12-in-1 card reader.It supports CF/MD/MMC/SMC/SD/miniSD/microSD/RS-MMC/MS/MS-pro/MS-duo/MS-M2. For more Digital Camera, DV or portable devices users, it is a very convenient platform to read and write files in memory cards.